true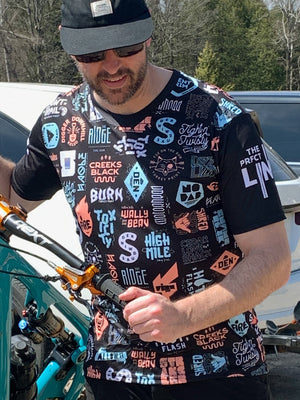 The PRFCT Line Trail Logo Jersey
This jersey represents 5+ years of trail tee designs for some of my favourite trails around Ontario. To celebrate these trails, I've selected the Jakroo Flow SS MTB jersey as my canvas after taking one for a spin last summer. I fell in love with the lightweight feel and the fit is about as PRFCT for Tara and I as I've found. This is the first jersey for The PRFCT Line.  
Premium Durango Performance Fabric consisting of 100% Polyester
High Breathability
V-Neck Collar
Zippered Key Pocket
Glasses Micro-Fiber Wipe
Athletic Fit
Tara is 5'6" wearing a women's small
Rich is 5'11" wearing a men's medium
Trails included: 5 Bridges, Bent Rim, Cedar Love Shack, Digger Downhill, Dizzy Lizzy, Ebb & Flow, Fire, Firepit, Fox On The Run, Gnome Rock, Haole, High Mile, Hot Flash, I Will Allow It, Motorhead, Motown, No Dab, Perry's Portage, Roller Flowster, Saudwinder, Snakes & Ladders, Strangler, Stunt Trail, The Burn, The Den, The Ridge, Tight N' Twisty, Toxicity, Trillium Trail, Triple Shred, Wally And The Beav.